The Little Book Of series
Miami authors Laurie Friedman and Zack Bush share a love of books, especially for children.
One day over a cup of coffee at their favorite local bookstore, they decided to put their talents together. Great friends became writing partners, and the result is The Little Book Of series.
---
The Series

The world is big. There's so much to learn. So many things to do. And a whole host of ways for kids to have good, safe fun! Discovering it all is simple . . . if you have the right roadmap. With engaging text and warm, kid-friendly illustrations, The Little Book Of series introduces young readers to a wide range of ideas, activities, values, and emotions. The books teach children that having fun, learning, and doing the right thing doesn't have to be complicated.
Our goal is for kids to enjoy the journey and fun of reading and discovering the world around them, one little book at a time.
That's what the #littlebookof series is all about!
#thelittlebookof
Check out the series website thelittlebookof.com
---
The Books
The Little Book of Camping
Camping is easy if you know what to do! The Little Book Of Camping provides a simple, fun roadmap for wannabe campers who've dreamed of pitching tents—in the woods, their backyards, or even their bedrooms— and having a real campout.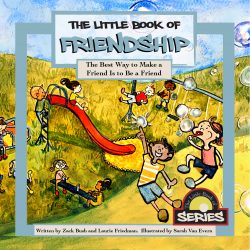 The Little Book of Friendship
Making a friend is as simple as being a friend. But what does it mean to be a good friend? The Little Book of Friendship explores the many ways to make lasting bonds and real connections.


The Little Book of Kindness
Kindness comes in all shapes, forms, and sizes. The Little Book Of Kindness provides a gentle reminder to young readers that every kind act—no matter how small—makes a big difference.